FMDQ becomes a Member of the African Securities Exchanges Association. In line with its mission to empower the financial market to be innovative and credible in support of the Nigerian economy, and in support of its agenda for the transformation of the market with a view to upgrading it to international standards, FMDQ OTC Securities Exchange (FMDQ) is pleased to announce its admission in May 15, 2015, as a 'Full Member' Exchange of the African Securities Exchanges Association (ASEA); a status which was ratified at the Association's Annual General Meeting (AGM) which opened the ASEA Conference on November 15, 2015 in Johannesburg, South Africa.
A Full Member status entitles FMDQ to vote during the Association's AGM, fully participate in ASEA events, be featured in publications, as well as the privilege to nominate a representative for election to the ASEA Executive Committee.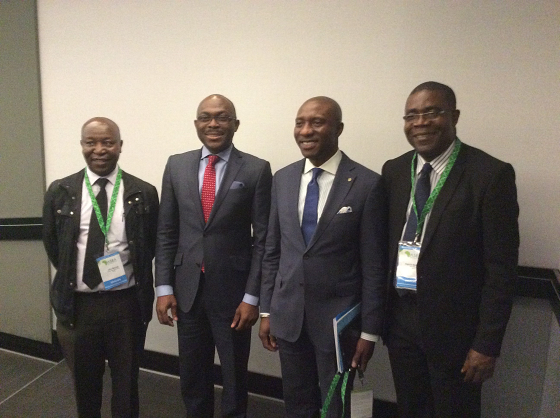 According to Ms. Kaodi Ugoji, Head, Strategy & Corporate Communications Group at FMDQ, "this admission is a positive step towards making the markets globally competitive and provides, among others, a platform for unlocking the potentials in the Nigerian capital markets through mutual networking and communication with various Member Exchanges in Africa. Membership of the ASEA is an important reference for many international investors and the status reflects FMDQ's commitment to implementing the highest standards in line with international best practices".
The ASEA works with its Member Exchanges to enhance their global visibility and competitiveness, with a view to attracting capital inflows to the African capital markets, providing an authoritative information portal and aggregated statistics on African markets and Exchanges respectively, boosting market development and capacity building among Member Exchanges and initiating strategic alliances on behalf of its Member Exchanges.
FMDQ, as an OTC securities exchange and self-regulatory organisation with a key mandate to foster sustainable development in the Nigerian financial market, is resolute in driving its "GOLD" agenda – Global Competitiveness, Operational Excellence, Liquidity and Diversity – in support of the Nation's economic development.
FGN Bond Quotation & T.Bills Listing Ceremony
FMDQ Launch – Event Snapshot
FMDQ OTC MD/CEO Interview with Opeyemi Agbaje
Press Interviews at FMDQ Launch