Ghanaian Financial Services Industry Representatives Visit FMDQ OTC PLC. FMDQ played host to key representatives from the Ghanaian Stock Exchange, Ministry of Finance and its Debt Management Office, along with other private market participants who recently came on a study tour to the securities exchange.
They noted that in its capacity as a market organiser and self-regulatory organisation, FMDQ has significantly impacted on the development of its markets (products and infrastructure); and this visit provided the representatives with a unique opportunity to closely interact and understand the operational modalities of the FMDQ OTC exchange which was launched onto the Nigerian financial markets landscape in November 2013.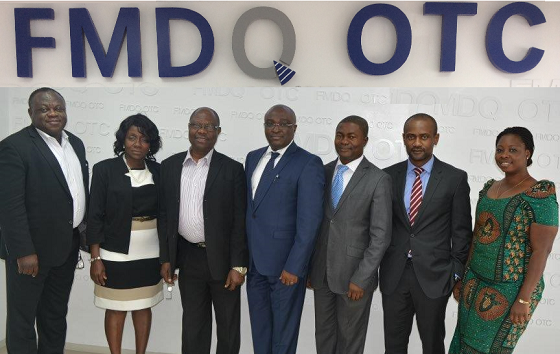 Following a review of FMDQ business services and operations, and ahead of discussions towards effective collaboration, the representatives noted key challenges imminent in driving positive change and upholding governance in a previously opaque market; and acknowledged the level of growth and development being engineered by FMDQ in the Nigerian financial market.
FGN Bond Quotation & T.Bills Listing Ceremony
FMDQ Launch – Event Snapshot
FMDQ OTC MD/CEO Interview with Opeyemi Agbaje
Press Interviews at FMDQ Launch