FMDQ Collaborates with Proshare, Launches Fixed Income & FX Price Ticker Tape on Proshare Website. As a continuous developmental move to boost its enlightenment and engagement initiatives, Proshare, Nigeria's premier economy and financial information hub, in collaboration with FMDQ OTC Securities Exchange ("FMDQ" or "the Exchange"), Nigeria's foremost debt capital and foreign exchange (FX) – focused securities exchange, today launched the FMDQ Price Ticker Tape and Fixings Data Segment on the ProshareNG's homepage.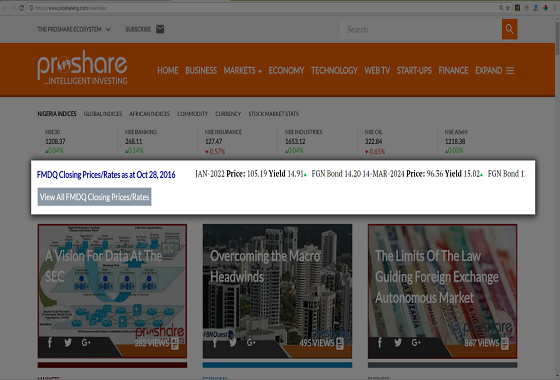 The FMDQ Price Ticker is a representation of the intraday and closing market prices/rates of benchmark bonds and treasury bills traded on the Exchange, while the FMDQ Fixings Data widget depicts independent fixings of FMDQ's fixed income and FX markets. These Fixings include Nigerian Foreign Exchange Fixing ("NiFEX"), The Nigerian Inter-Bank Offered Rate ("NIBOR") and The Nigerian Inter-Bank Treasury Bills' True Yields Fixing ("NITTY").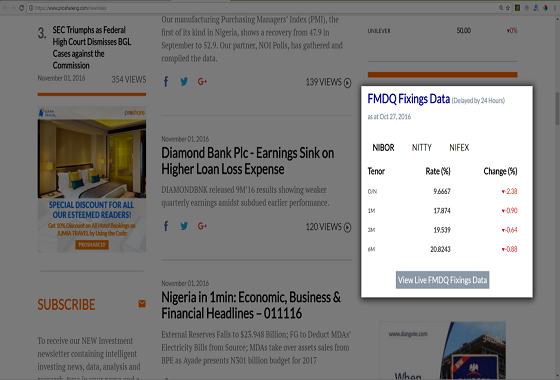 This collaboration with FMDQ marks a long- term partnership that would see Proshare disseminate more credible data from the Exchange, which is the information repository for all activities in the Nigerian fixed income (money, repo, commercial papers, bonds, treasury bills), FX and derivatives markets, as it does for other markets; thereby making Proshare a one-stop hub for all Nigerian financial market related data, insights and analysis.
Mr. Olufemi Awoyemi, the Founder/Managing Director, Proshare Nigeria, speaking on this announcement expressed delight that this partnership is coming to fruition, having asserted earlier in the year that the new Nigerian financial market, rather than being about the equities market alone, is an embodiment of the FMDQ and NASD OTC markets, which should not be ignored. He further stated that with partners like FMDQ, you can be sure not to get it wrong with Proshare.
Speaking further about this collaboration, Mr. Bola Onadele. Koko, the Managing Director/CEO of FMDQ, said, "FMDQ, in its capacity as a market organiser, and being the information repository for the markets under its purview, is delighted to partner with Proshare, a leading capital market-focused news site to ensure that these highly significant, yet largely under-reported markets are broadcast to a wider and more diverse audience. As a securities exchange keen on promoting a transparent and well-regulated market, FMDQ remains committed to making the Nigerian financial market globally competitive and operationally excellent".
Having partnered with such renowned Exchanges within the Nigerian financial market, Proshare, being a forward thinking organisation, looks forward to bringing global markets closer to the Nigerian investing community as investment alternatives increase globally.
About Proshare Nigeria Limited
PROSHARE Nigeria, founded in December 2006 as a niche news and analysis service has since grown to become Nigeria's premier Financial Information Hub; with key focus on markets, business, personal finance, economy, start-ups, technology and regulation.Its remit and key proposition is the delivery of a service that is credible, reliable and timely.
Proshare's strength lies in its professional expertise, integrated approach, dedication to fact-based interventions and a commitment to subscriber/user engagements. This attributes have been acknowledged by both the local and international community, sometimes through multiple awards received which include the CFI.co "Best Capital Markets Solutions Team – Nigeria 2014", the Nigeria-British Chamber of Commerce (NBBC) Rising Star Award for 2014 and the International Finance Magazine (IFM) "Most Innovative Capital Market Service Team, Nigeria 2015"; amongst others.
About FMDQ OTC Securities Exchange
FMDQ OTC Securities Exchange is a Securities and Exchange Commission registered over-the-counter (OTC) market, strategically driven to revolutionise and foster the development of the Nigerian financial market. The company brings together Nigeria's fixed income and currency operations under a single market governance structure.
In line with its mission to empower the financial markets to be innovative and credible, in support of the Nigerian economy, FMDQ is instituting requisite infrastructures to power development of the markets through its "GOLD" (Global Competitiveness, Operational Excellence, Liquidity and Diversity) Agenda.
The securities exchange provides an exclusive market governance structure for the markets within its purview: fixed income (money, repo, commercial papers, treasury bills and bonds), currencies and derivatives; whilst offering listings & quotations, memberships, market connectivity, data & information and market regulation services.
FGN Bond Quotation & T.Bills Listing Ceremony
FMDQ Launch – Event Snapshot
FMDQ OTC MD/CEO Interview with Opeyemi Agbaje
Press Interviews at FMDQ Launch